Get fertility information that is in line with our overarching philosophy related to reproductive health – informed choice, physiological methods, and inspiring people to be confident in understanding their own bodies.
The Fertility Awareness Method is a science-based approach to conceiving, avoiding pregnancy, and monitoring your reproductive health that teaches you how to read your bodies physiological signs (cervical fluid quality and basal body temperature) to determine whether or not you are fertile on any given day of your cycle.
This is DIFFERENT than "rhythm"-based methods you may have heard of that are not very effective and focus on estimating your fertility based on averages and predictions as opposed to reading your unique body's physiological signs on each day.
We have partnered with Allison Macbeth from Blue Poppy Health to offer fertility consulting for clients who are wanting to:
Achieve pregnancy
Avoid pregnancy in the postpartum period
Avoid pregnancy at any stage of life
Develop body-literacy in terms of their reproductive health
Your consultant: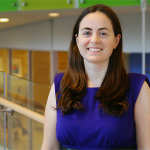 Allison Macbeth is a Holistic Reproductive Health Practioner certified in the Justisse Method of Fertility Awareness and holds a Masters in Human Sexuality and Sexual Health Education from the University of Sydney in Australia. Allison's mission is to teach fertility awareness and body literacy to people like you so you can be empowered in your relationship with your body, fertility, menstruation, and sexual health. By learning how your body works and understanding your hormones, you can use natural methods of birth control (which are more than 99% effective), plan and prepare for pregnancy, postpartum, and better manage your hormonal health!