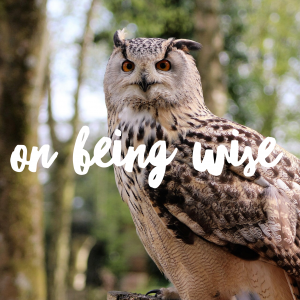 I asked my doula students last week what the word "Wise" meant to them. What does a wise person look like? Sound like? Act like? Represent? Why is wisdom something we look for in our birth attendants? How can we practice being wise? Here is what they came up with:
An elder, or someone who symbolizes an elder
Someone who can give advice and insight from experience
Humble
Grounded
Strong, Rooted
Intuitive
Thoughtful, slow
Always learning; aware they don't know it all
Connected to themselves and to a "collective knowing"
Knowing when to say nothing, and when to listen and HEAR instead of talk
Having pensive intentionality
Open with their knowledge
Having space for people's self-discovery, learning, mistakes, growing
Thinking outside the box, thinking about each unique scenario
Ability to listen with an open heart
Ability to speak in an intuitive way that can be heard
Having comfort in the present moment and in the unknown
Share experiences and knowledge not rooted in ego but with the intention of the greater good / overall picture
Confidence in nature, the natural flow of life
An owl: all seeing, all knowing, quietly observing. a knowledge of death and the impermanence of life, and letting go of fears around death that hold us back from living.
How will you embody these in your practice as a doula? How will you remember these words and use them to guide your clients with wisdom instead of with ego, instead of with impatience, instead of with passivity, instead of with fear?
If you're looking for a doula training that emphasizes a "wise" approach to birth, check out our schedule of upcoming Wise Woman Way of Birth doula training dates!