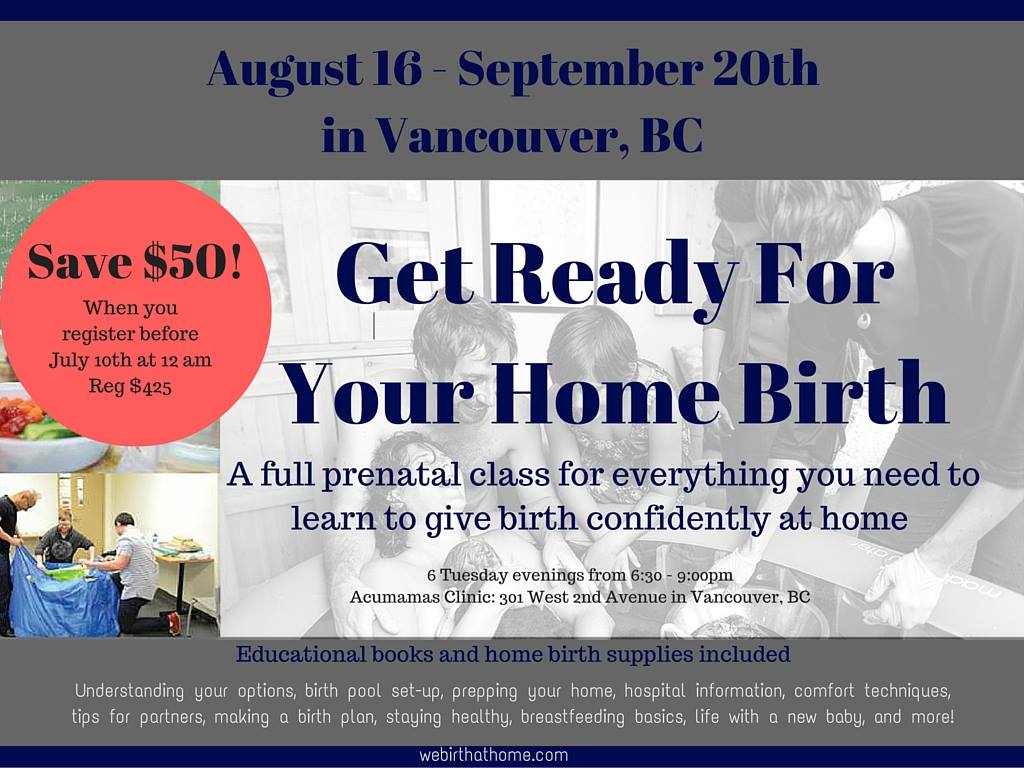 Home is historically THE normal place to give birth. While in the recent past it became more common to birth in hospitals, more and more families in Vancouver and across Canada are once again choosing to birth at home where outcomes and satisfaction with the experience tend to be better (sources).
While I support families in a variety of contexts and believe informed choice is paramount, more and more my practice has evolved to one that primarily focuses on attending families who are planning to give birth in the comforting, safe, peaceful environment of home.
Luckily, there are many resources in my community for clients seeking information about home birth in Vancouver. From Home Birth Info Nights hosted by midwifery clinics to midwives, birth attendants, and doulas who are well-experienced in home birth options.
My colleague and I thought there needed to be more, though. A few years ago, we developed Vancouver's first and ONLY home birth specific prenatal class that provides all the information you would receive in a regular prenatal class PLUS everything you need to prepare yourself, your home and your partner for a home birth in Vancouver. Our students have been RAVING about our home birth class and we are constantly hearing from birthing people and their partners about what a difference it made in their confidence and knowledge in regards to setting themselves up for a beautiful home birth. We can't believe it's been over two years since we started teaching our curriculum to home birth families in our community!
This summer, we are offering a promotion to get the word spread out even further. If you are planning a home birth (or even considering it as an option), our class is the best out there in terms of preparing you fully for your upcoming birth.
Great for families expecting to give birth late fall / early spring 2016!
Our next series will run from August 16th to September 20th. Six Tuesday evenings from 6:30-9pm will be jam-packed with all the tools you need to be prepared for giving birth from comfort measures to partner-tips to birth pool set up and so much more, all in a casual atmosphere with lots of fun.
Sign up before July 10th and save $50 off the course fee which includes educational books and home birth supplies.
Learn more at webirthathome.com or click here to register.