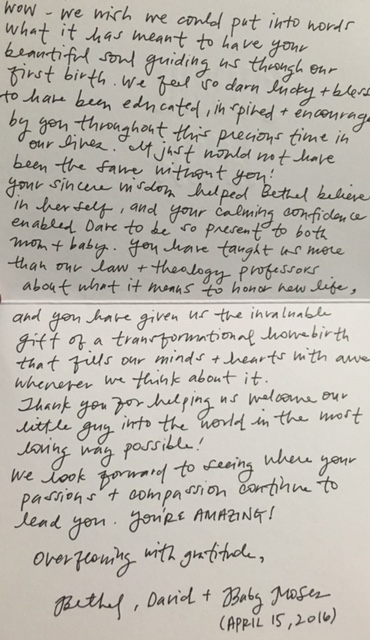 Part of the reason I love my work is that birth is not just about getting a baby out into the world; it's a beautiful, powerful, transformational family experience that changes people forever.
When I read this thank you card from recent home birth clients, I felt emotional for an entire evening. THIS IS WHY I DO WHAT I DO:
Wow – we wish we could put into words what it has meant to have your beautiful soul guiding us through our first birth. We feel so darn lucky and blessed to have been educated, inspired and encouraged by you throughout this precious time in our lives. It just would not have been the same without you!
Your sincere wisdom helped Bethel believe in herself, and your calming confidence enabled Dave to be so present to both mom and baby. You have taught us more than our law and theology professors about what it means to honor new life, and you have give us the invaluable gift of a transformational home birth that fills our minds and hearts with awe whenever we think about it. 
Thank you for helping us welcome our little guy into the world in the most loving way possible!
We look forward to seeing where your passions and compassion continue to lead you. YOU'RE AMAZING!
Overflowing with gratitude, 
Bethel, David and Baby Moses (April 15,2016)
Please contact me early if you're looking to book into care with me for your birth! Email jessica@birthtakesavillage.com for info.