Doula & Childbirth Services in Vancouver, BC
As a birth doula and informed choice activist, I believe women's rights to choices about their births are of utmost importance. I strive to promote a gentle and informed birth culture through my birth work,  educational blog and childbirth education classes, as well as by participating in local campaigns to raise awareness about important issues in maternal health care. I also train new doulas through the Wise Woman Way of Birth doula certifying program.
My strong ties to both the medical and non-medical childbirth communities give me a uniquely well-rounded perspective on the range of options for birthing families in Vancouver. In addition, my training and experience with a Traditional Birth Attendant has given me a deep understanding of normal, undisturbed birth.
In addition to supporting families during childbirth, I also offer gentle and informed support for early miscarriage and planned abortion as part of my practice.
Jessica Austin, Birth Takes A Village
How I Work
Dr. Michel Odent, famous natural birth physician, says "one cannot actively help a woman to give birth. The goal is to avoid disturbing her unnecessarily." This is the approach I typically take during a birth by focusing on making sure you are nourished, hydrated, reassured, and comforted while also leaving room for you to follow your body's instincts. A delicate balance of coaching, guidance, and support along with giving clients space when needed is the key to good doula support.
A main focus of my work with birthing families is making sure you feel educated, supported and able to make informed choices both before and during the birth.  When you look back on your birth, I want you to feel that you fully understood your options and that you were able to make fully informed choices that felt right to you.
While I have ample experience attending hospital births and do still the occasional hospital birth clients, more and more I am becoming known for my skills and ability to support families planning home births. If you are curious about home birth, don't be shy to email me to learn more about it!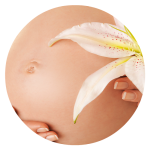 "Jessica is THE best! She is a wonder woman, and worked her hardest to make sure that we have a safe, secure and positive birth environment…and most importantly she is always on and by your side! My partner and I could not have done it without Jessica – best money you can spend."
~ Jilai K. (home birth client)
My Path to Becoming a Childbirth Professional
Finding a career that could bring me a strong sense of fulfillment through contributing to others' lives in a positive and important way while fulfilling my need for constant learning and education had always been an extremely important goal of mine. This pursuit has taken me through university and independent studies, as well as employment in various fields of health care.  Finally, I found myself becoming part of the Vancouver birth community as a birth doula and prenatal educator.
My undergraduate studies in Biological Sciences  provides me with a strong understanding of human biology, as well as an interest in and ability to understand scientific research. I spend many evenings studying childbirth-related research, which has armed with a plethora of studies and resources to pass on to my clients.
Birth is a career with non-stop learning which feeds my thirst for knowledge and continuous growth as both a person and a professional.  With every new piece of knowledge and experience I am more and more amazed at the biological process of birth that unfolds so naturally.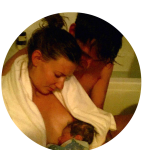 "So many people talk about how painful and traumatic labour is; but by trusting my body, letting go of fear and tension and trusting that birth is safe and natural, it was a powerful and amazing experience, not painful, and definitely not traumatic!"
~Jen A. (home birth client)
Partnership
I am thrilled to be working with Kaz Hiroe, another incredible birth worker, as my partner in on-call work. Kaz shares in the care of my birth clients by taking approximately 6 on-call days each month (exact number varies depending on the month), ensuring that I am able to have some time off to rest and that our clients always have someone amazing available to them. Kaz began to herself in the study of birth and breastfeeding after the birth of her first child in 2005. She has shadowed midwives, birth attendants, and doctors in Canada and the Netherlands, and has attended courses and workshops with birth gurus such as Ina May Gaskin, Barbara Harper, Gloria Lemay, and Debra Pascali Bonaro. Our similar experiences, trainings and overlapping mentors make us the perfect team.
We also collaborate with a small network of a few carefully selected, additional doulas to provide us with back-up in the event of a birth overlap or extremely long birth. Birth work is the most unpredictable work there is, so it's imperative to always have contingency plans. We are proud of our tight-knit support community to ensure a high standard of service to our clients.
Birth Takes A Village
Birth Takes A Village was created as a symbol for what I desire for the world: a strong sense of community, support, and respect. Traditionally, families had a community of support around them during pregnancy, birth and in the early newborn period. Our culture has largely moved away from that community-based system, and I want to be a part of recreating it; symbolic of how, ultimately, I wish for a strong sense of community and support everywhere, for everyone.
Changing the CULTURE of birth also takes a village. I believe our current birth culture needs to be shifted to one that is much more gentle, informed and respectful of women and their bodies. As an active leader and participant in Vancouver's birth community, I strive to create continual and positive change as I work towards promoting a gentle and informed birth culture.
Let's Meet!
I invite you to contact me for a free initial interview to discuss my services further. I'd love to get to know you and answer any questions you might have about your upcoming birth. I'm also happy to meet with you to discuss the options available to you here in Vancouver in regards to your birth.
Feel free to contact me directly or book a consultation online.
Jessica Austin
Childbirth Services in Vancouver, BC
jessica@birthtakesavillage.com