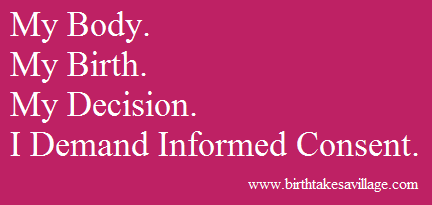 Informed consent rights are extremely important to women's experience during birth. One of the biggest factors in whether you remember your birth as a positive or negative experience is the degree to which you feel informed and involved as decisions are made in terms of your maternal health.
You will remember the experience you have birthing your baby. It is a pivotal, intense event in any birthing woman's life, and has important physiological and psychological implications for you and your baby.
By understanding informed consent, you will be better able to actively engage in your maternal health decisions and be much more likely to have the birth of your baby be a positive experience.
Claim ownership of your birth. Make sure you are informed & take the opportunity to consider your options before consenting or refusing procedures during your birth.
Your doctor or midwife's job is to make recommendations during the course of your pregnancy and birth. Your job is to ask questions about those recommendations and make informed decisions about the treatments you choose or decline.
Take a look at our most recent birth rally video. Something that comes a lot from both birth professionals and mothers is how important informed consent is during childbirth. It's a long video, but worth watching the whole way through!
What Is Informed Consent?
Informed consent is your health practitioner's (ie. doctor or midwife's) obligation to give you as much information as possible about proposed care options so that you can make decisions about your health and birth.
Informed consent practices require your maternal health practitioner to facilitate the following: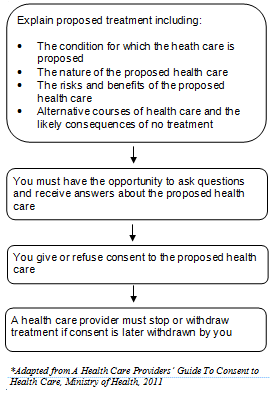 Your Rights In Giving Or Refusing Consent To Health Care
By law, "A care provider must not provide health care without an adult's consent" (section 5 (1), Health Care Consent and Care Facility Admission Act). 
Because consent to health care is so  important, there are legal protocols set in place to encourage its practise. The following are your legal rights in terms of giving or refusing consent to health care procedures:
1. The right to give consent or refuse  consent on any grounds, including moral or religious grounds, even if the refusal will result in death;
2. The right to select a particular form of medically appropriate health care on any grounds, including moral or religious grounds;
3. The right to revoke consent;
4. The right to expect that a decision to give, refuse, or revoke consent will be respected; and
5. The right to be involved to the greatest degree possible in all case planning and decision making
*From A Health Care Providers' Guide To Consent to Health Care, Ministry of Health, 2011
Some Important Points About Informed Consent:
Although consent can be implied by cooperation movements such as offering your arm for an IV, cooperation should not be confused with consent, according to guidelines set forth by the Ministry of Health. If you have not been provided with information about a health care treatment, behaviour cannot be assumed to imply consent.
How To Make Informed Decisions During Childbirth:
I recommend asking the following questions when considering any proposed treatments during childbirth:
What are the benefits, risks and alternatives of the proposed intervention / treatment?
What is the risk of not taking any treatment at all?
How urgent is this decision: Is this something that need to be decided in the next few minutes? Next few hours? Next few days?
What are the risks of holding off on intervention at this point?
Tips for feeling fully informed:
Ask for numbers. If your midwife / doctor explains, for example, that no treatment increases your risk of a poor birth outcome, ask by how much. 40%? 10%? 1%? 0.05%?
Whenever possible, always take time to reflect on your options before making a decision, even if it's just for a moment or two. You can always ask to be left alone or with your partner to discuss and weigh your options
Your partner & doula can help you ask questions about proposed treatments so you have as much information as you'd like before making an informed choice about your care. However, they cannot make decisions on your behalf.
My Advice For Successfully Receiving Appropriate Opportunity For Informed Consent:
Please choose your birthing team and location carefully. Make sure they know how important it is to you to play a leading role in your health care decisions, and that you plan to fully embrace your right to informed consent or informed refusal. Understanding informed consent gives you a leg up in receiving the care and birth you want if you've chosen to birth within the maternal health care system.
But the best thing you can do for yourself is choose to surround yourself only with people you don't feel like you need to protect yourself from during your birth. Just like with any profession, there are practitioners that will be more in line with your philosophy than others. Choose wisely, and make it a priority to choose a health practitioner who also values your role in making decisions. 
As many of you know, informed consent is one of the big priorities of the Vancouver Birth Rallies. If you want to rally with us for improved informed consent practices and accountability, please join our facebook group. We're planning a big event for Labour Day!
The latest birth rally video shown above has sparked a LOT of controversy. You can read more about it in Hoping For Dialogue: Vancouver Birth Rally Update.
Think this information is important? Share it! Every woman deserves to know her rights in maternal health care..
Jessica Austin, Vancouver Doula: Childbirth Services in Vancouver, BC