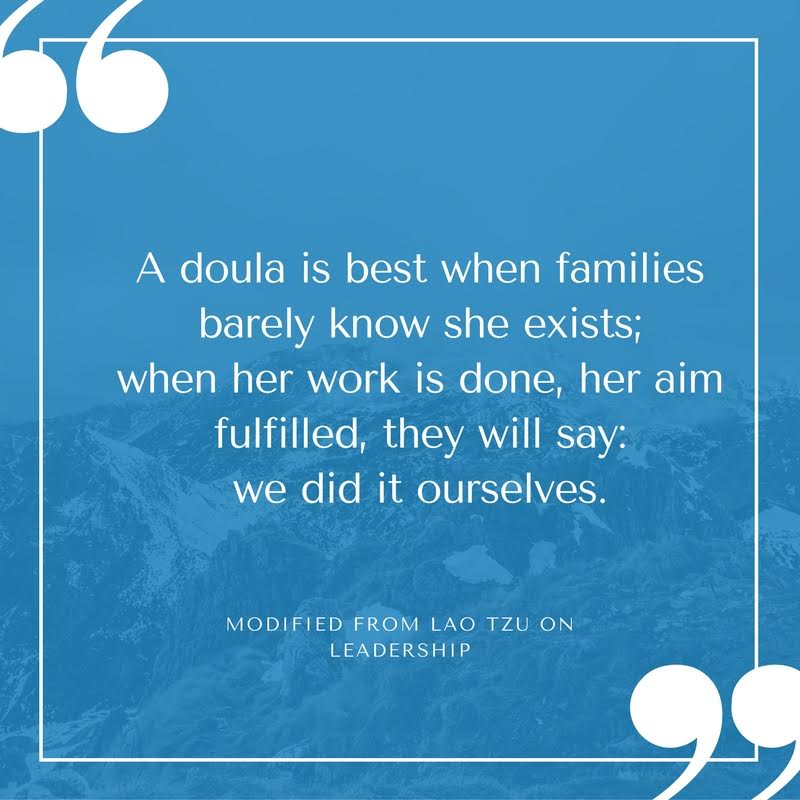 I saw this quote the other day while reading an article about leadership, and thought it could be perfectly modified to suit the work of supporting a family during birth. All too often, doulas and other birth attendants are tempted to prove their usefulness with a lot of "doing" at a birth and to take a lot of the credit when everything is all said and done.
One of the biggest differences between the way that I practice and the way other attendants often practice is that I have a strong "let the birthing person lead" approach as opposed to disrupting the instinctual process unnecessarily with too many energy-wasting "techniques". It isn't my job (or ability) to get my clients to progress in the birth process or to get the baby to the point born… it's my job to keep them healthy and supported and confident while their bodies do their natural thing. Yes, I offer tips and tips and suggestions and coaching to my clients. However, my style is to watch what the client is instinctually trying to do and to support her in doing it more comfortably and confidently rather than being unnecessarily directive. I love it when my clients know that, while I supported them along the way, THEY are the ones who actually DID it!
"A doula is best when families barely know she exists; when her work is done, her aim fulfilled, they will say: We did it ourselves." ~ modified from Lao Tzu on Leadership.